We've been fans of Ridge Vineyards in Sonoma County, CA, for years. During a visit to the winery several years ago, we enjoyed a memorable (well, maybe it's a little fuzzy …) side-by-side tasting of Ridge's fabulous zinfandels and zin-based red blends. Since then, whenever I spy the distinctive labels (more on that in a moment) in the wine shops we frequent, I comment that I'd love to do a Ridge tasting at home with friends. Being the attentive guy that he is, Rob listened, and for Christmas this year gave me four—four!—bottles. On New Years Eve, with four friends on hand to help out, we cracked 'em open.
Before I get to a blowout version of our regular wine reviews (see more Wine Bear reports here), allow me to indulge a bit of design geekery. In an era of cute mascots and snarky names on wine bottles, Ridge Vineyards has an amazing brand heritage. Simple, type-centric labels in black and green present a unified brand presence on the shelf. Brilliant. There's simply no mistaking a bottle of Ridge. And they've never done a gimmicky redesign. The Ridge label is the Ridge label … always has been and, one hopes, always will be.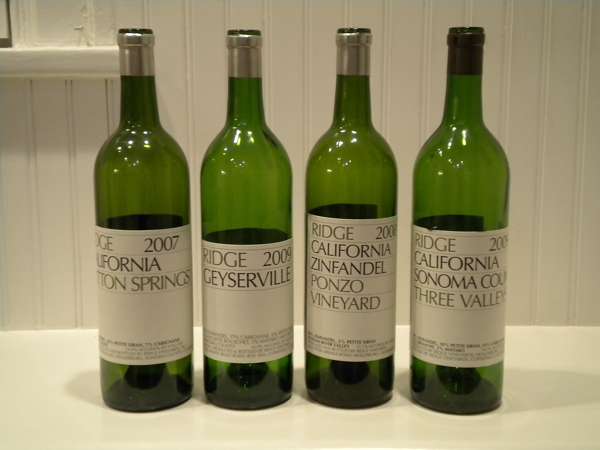 2007 California Lytton Springs
71% Zinfandel, 22% Petite Sirah, 7% Carignane
Our tasting group found the '07 Lytton Springs to be quite nicely balanced, with lively ripe berry flavors, plus hints of earth, smoke and tobacco, and a long finish. Our second favorite of the four.
2009 Geyserville
74% Zinfandel, 17% Carignane, 6% Petite Sirah, 2% Alicante Bouschet, 1% Mourvedre
This was the universal favorite among the four (not that there was a dud in the bunch). The blended grapes seemed to cut the thick, jammy-fruit character of the zin and created an extraordinarily smooth, well-balanced wine. One taster called the Geyserville "a cashmere blanket." An apt description.
2008 California Zinfandel Ponzo Vineyard
98% Zinfandel, 2% Petite Sirah
As you'd expect from a nearly all-zin wine, the Ponzo had a huge dried-fruit taste, with a hint of spice (I tasted clove). One friend noted that it tasted like "coastal air"—if you've been to the California coast, you might think of pine and eucalyptus and other deep-green aromas. This wine had a pleasant level of tannin that made for a clean finish.
2009 California Sonoma County Three Valleys
70% Zinfandel, 10% Petite Sirah, 15% Carignane, 3% Grenache, 2% Mourvedre
The Three Valleys resembled a young zinfandel, with nice dark-flavored fruit balanced with pepper and spice, a good structure and a short finish.
Rating (out of 4 possible paws):

Editor's note: Meet the Wine Bears and learn more about the patented (not really) Four Paws rating system.
Did you enjoy a special bottle (or four!) during the holidays? Share what you tasted and what you liked about it in the comments below!