For several deeply held reasons, I am attempting to scale back the scope of Christmas (at least the spending and gifting parts of Christmas) in favor of a quieter, simpler, more loving approach. Because I have more spare time than spare change these days, or at least a greater willingness to spend my time than my money, I'm plotting to make many Christmas gifts in my own kitchen.
(This is the point at which my family needs to stop reading this post. Oh, and ignore the headline.)
We do enjoy our cheeses in my family, and my brother is working to open a bakery and cheese shop in Chicago (more on Baker & Nosh here and here). I happen to love fruit with cheese: sweet honeycrisp apples with uber-sharp cheddar, pears with blue cheese (and this salad with apples and Swiss). And since I've been into making jam since spring (see here for recipes for blueberry, strawberry and tomato jam … no, not all of those together, silly!), I decided I'd make small-batch fig jam, perfect as an accompaniment on a cheese plate. I found how-tos for a basic fig jam from Food & Wine, and made several adaptations to make a simple recipe for fig and thyme jam. This would be wonderful on a cracker with a schmear of good blue cheese or goat cheese.
fig-thyme jam
(makes 2 cups, or four 4-ounce jars)
1 pound fresh figs (I used a variety called Brown Turkey, which I found at The Fresh Market)
3/4 cup granulated sugar
3 Tbsp. freshly squeezed lemon juice (I used Meyer lemons)
2 sprigs of fresh thyme
Chop the figs into 1/2-inch pieces or smaller. In a medium saucepan, stir together figs and sugar; let stand for about 15 minutes or until the figs get juicy and the sugar dissolves a bit. (At this point, I thought the mixture too chunky and gave it a couple of whirls with my immersion blender, a step that proved unnecessary.) Add lemon juice and thyme sprigs, and place the pan over medium heat; bring mixture to a boil. Lower the heat a bit but keep the mixture simmering; cook for about 25 minutes, stirring occasionally. The jam should thicken enough to drop from a spoon in big, heavy drops, and it will also go from cloudy to glossy and slightly clear. The fig jam will be a gorgeous, ruby color, and the fruit will be soft and broken down. Remove the thyme sprigs and spoon the hot jam carefully into hot canning jars and process according to standard canning directions, or simply refrigerate for up to 3 months.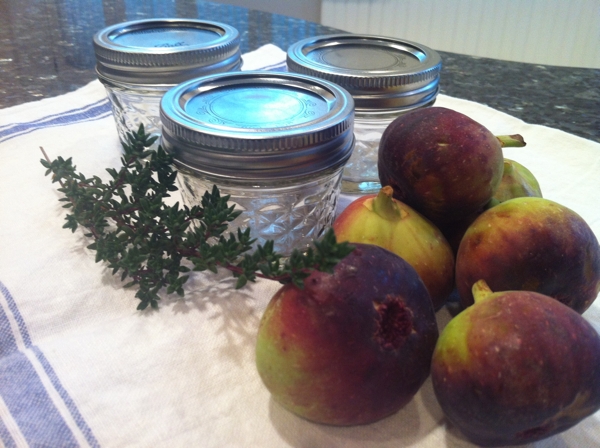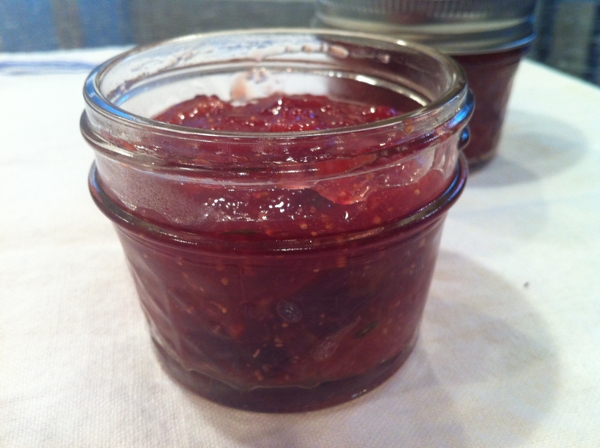 related recipes