I posted back in May of this year about finding the perfect homemade granola recipe after much sampling and experimenting. And just to prove that cooking is, indeed, one big experiment, I'll share a seasonal revamp on that earlier recipe. You can always improve, right?
This new edition of my granola recipe came about for two reasons: 1) I couldn't find wheat germ, an ingredient of the original recipe, when I stopped at Trader Joe's, and so I picked up a carton of organic multi-grain hot cereal (with rolled oats, rye, barley and wheat) instead. And 2) I wanted to switch up the recipe to incorporate fall flavors: maple, pecan and cranberries.
I still like the original version, but this one's really good, too:
maple-pecan-cranberry granola
3 cups old-fashioned oats or multi-grain hot cereal
1/2 cup sunflower seeds
1/2 cup coarsely chopped pecans
1/2 cup pistachios
1/4 cup light or dark brown sugar
1/2 tsp. salt
1 tsp. cinnamon
1/4 cup agave nectar
2 Tbsp. maple syrup
2 tsp. vanilla
1 egg white whisked with 1 Tbsp. water
1 cup dried cranberries
Preheat oven to 325 degrees. Line a large rimmed baking sheet with parchment. In a large bowl, mix together multi-grain cereal, sunflower seeds, nuts, brown sugar, salt and cinnamon. In a smaller bowl, whisk together the egg white and water; add agave, maple syrup and vanilla, and whisk until mixture is blended and slightly frothy. Pour agave mixture over oat mixture and, using a large rubber spatula, fold ingredients together until the dry ingredients are well-coated. Spread granola on baking sheet; if you want some clumps, squeeze some of the mixture together with your hands. Bake for 15 minutes. Using a spatula, turn the granola gently, moving the mixture from the outer edges of the pan toward the middle and vice versa. Bake 8 to 10 minutes more until lightly browned. Reduce oven temperature to 250; return pan to oven and bake another 15 to 20 minutes until the granola is toasty brown and mostly dried. Remove pan from oven and let cool. Carefully break up into chunks and gently fold in dried cranberries. Store in a plastic bag or container.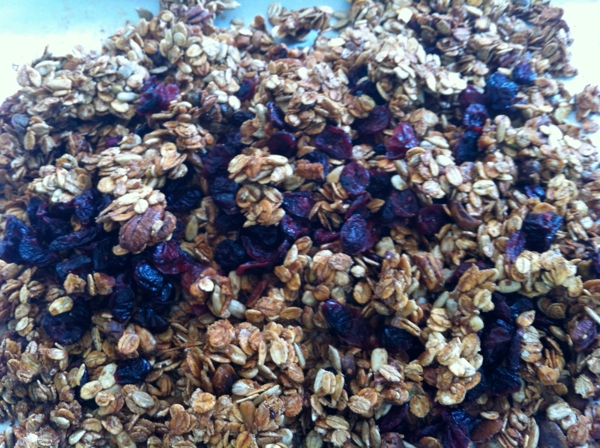 related posts