Cooking with my mom recently, I encountered an ingredient I hadn't tried before: labneh (also spelled labna) or Middle Eastern yogurt cheese. In a nutshell, it's plain yogurt that has been strained for several days to remove the whey and develop a firm texture. It's as if Greek yogurt hooked up with cream cheese. In fact, labneh is also called Lebanese cream cheese—but the comparison doesn't do it justice. Labneh is smoother and tangier than cream cheese. It carries a similar calorie count (both labneh and regular Philly have 80 calories per 2 Tbsp. serving), but labneh has a couple of healthy benefits going for it: It contains live and active cultures, it lacks the stabilizers found in cream cheese (guar gum, xanthan gum, and the like) and it's lower in fat. Plus, it's downright delicious.
My mom used it in place of cream cheese for a simple appetizer version of the cucumber tea sandwich. I played around with creating a recipe for a light spread for crackers; it's a combination that makes a nice lunch go-with or afternoon snack. In Middle Eastern cuisine, it's often drizzled with olive oil and served with bread. Another use I found calls for rolling the labneh into balls and marinating them in olive oil and herbs, much like you might do with fresh goat cheese. This recipe from the BBC features labneh mixed with minced garlic and dolloped around a platter of oven-roasted tomatoes. I have half a container left, and I plan to use it in my favorite recipe for homemade boursin-style herb cheese.
yogurt cheese (labneh) spread with vegetables
(makes 1 cup)
1 cup labneh
1 Tbsp. white wine
1 Tbsp. dried vegetable flakes
1/4 tsp. to 1/2 tsp. seasoned salt
pepper
In a small bowl, combine the wine and dried vegetable flakes; let sit for about 10 minutes to soften a bit. Mix with labneh; add 1/4 tsp. of your favorite seasoned salt (I like Jane's Crazy Mixed Up Salt) and taste, adding more seasoned salt if you'd like. Add fresh ground pepper to taste and blend well. Serve on whole-grain crackers as an appetizer or snack.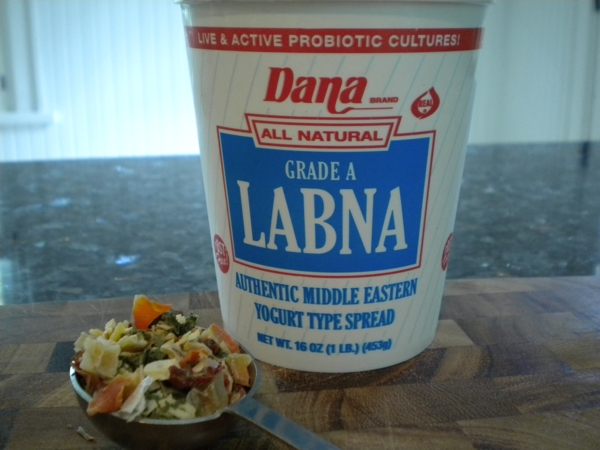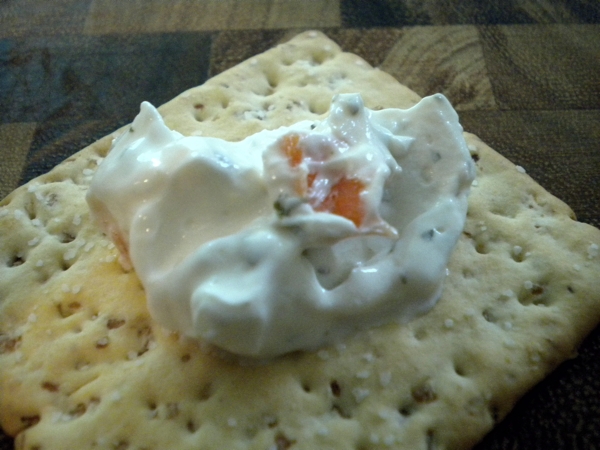 related posts
if you really wanted to go all-in, you could make your own homemade yogurt, and then strain it in cheesecloth for 3 days in the refrigerator to make labneh