Last week, I posted about discovering labneh, the Middle Eastern yogurt cheese. This stuff is fantastic, and it's incredibly versatile. I mixed labneh with dried vegetable flakes, a splash of wine and some seasoned salt into a great spread for crackers. Then I went on to adapt a favorite herbed cheese recipe using this tangy ingredient.
fresh herb cheese spread
1 cup (8 ounces) labneh, or Middle Eastern yogurt cheese
3 Tbsp. minced fresh parsley
1 Tbsp. minced fresh chives
2 Tbsp. minced fresh basil
1 small garlic clove, minced
2 Tbsp. freshly grated Parmesan
salt and pepper
Mix everything together in a small bowl; season with salt and pepper to taste. I used about a quarter teaspoon of my favorite seasoned salt, Jane's Crazy Mixed-up Salt.
This fresh herb cheese spread is great on hearty, whole-grain crackers. It would also be good on a vegetable sandwich made with whole-grain bread, fresh sliced tomatoes, cucumbers and lettuce.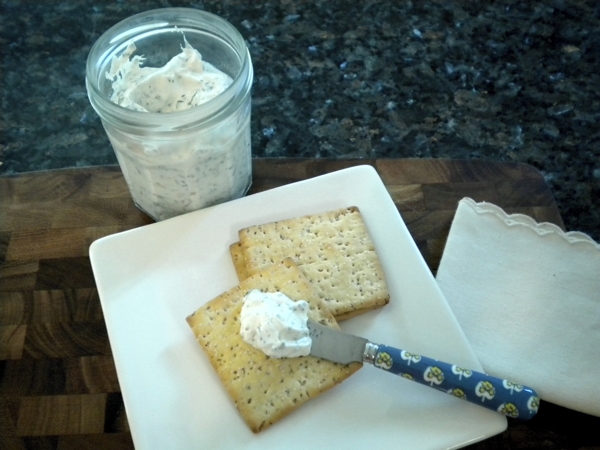 related posts
walnut blue cheese spread
basil chevre appetizers
a year ago on writes4food