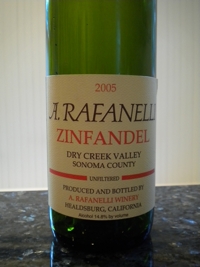 Wine: A. Rafanelli Dry Creek Valley Zinfandel 2005
Price: $45
Tasting notes: plush and full-bodied, with jammy fruit, caramel and not-too-sharp spice
Story: One of our very favorite wines, and it does Rafanelli no disservice to say this Zin is perfect with summer grilled burgers. Rich and lush without being overdone or overbearing. Rafanelli is old-school in the best way (just look at the label); the family sells only through the winery.
Rating (out of 4 possible paws):

Editor's note: Meet the Wine Bears and learn more about the patented (not really) Four Paws rating system.