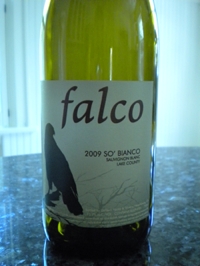 Wine: Falco So' Bianco Sauvignon Blanc 2009
Price: $20
Tasting notes: green grass, herbs, brightly acidic notes of lemon
Story: This Sauvignon Blanc from DaVero in Healdsburg, CA (the source of our favorite olive oils) is deliciously different, with the grassy citrus-ness of a New Zealand Sauv Blanc and the austerity of a French white. Perfect with an all-vegetable meal on a hot summer night.
Rating (out of 4 possible paws):

Editor's note: Meet the Wine Bears and learn more about the patented (not really) Four Paws rating system.