In the heart of summer, I cannot get enough of corn, zucchini and tomatoes. They taste intensely of sunshine, they're incredibly easy to prepare and they're endlessly flexible.
An article in the July/August issue of Eating Well that featured healthy takes on classic picnic foods (think: potato salad and fried chicken) included a salad inspired by succotash, the very traditional combination of beans, corn and squash. I didn't love the vinaigrette dressing, but the recipe prompted me to try my own combination and concoct something more akin to the traditional succotash.
I had some frozen edamame on hand, so I added that in lieu of the recipe's suggested fresh lima beans; too, I'd picked a very small handful of garden green beans, so I added those. You could add red or green bell pepper and even a bit of fresh jalapeno if you'd like some heat.
We served it at room temp alongside the magazine's recipe for oven-fried chicken on a stick. Delish!
summer succotash
1 medium sweet summer onion
2 cloves garlic, minced
2 medium zucchini (use 1 yellow zucchini if you'd like), in 1/2-inch dice
3 ears corn, kernels removed
1 cup frozen edamame
2 good handfuls of fresh green beans, trimmed and cut into 2-inch lengths
1 Tbsp. olive oil
salt & pepper
seasoning blend of your choice (I used The Spice House's Lakeshore Drive blend; a good Italian seasoning blend would work)
Halve the onion vertically (pole to pole), then thinly slice each half. Heat olive oil in a skillet; add onion and sauté until translucent, 5 to 7 minutes. Add zucchini and sauté 5 minutes; add corn, edamame and garlic and sauté another 5 to 7 minutes, until vegetables are cooked through but still have a bit of crunch. Season with salt, pepper and seasoning blend. Serve warm or at room temperature (this keeps very well and makes great leftovers).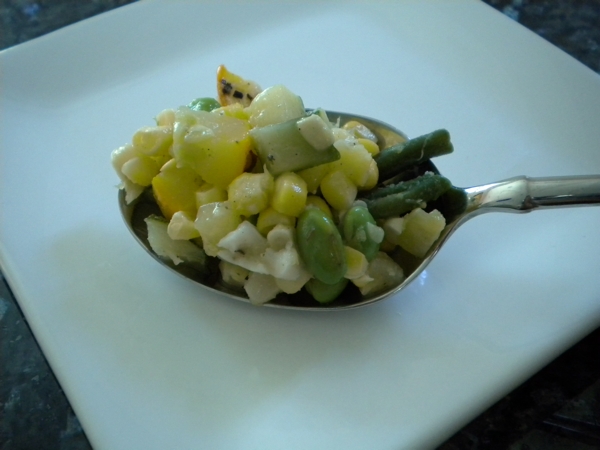 related recipes
grilled summer vegetables in foil
summer's best sautéed vegetables
a year ago on writes4food