There are two dishes that combined prevent me from becoming a full-on vegetarian: Rob's always-perfect grilled hamburgers and this: Fennel-spiced steak that's grilled and served over sliced tomatoes.
When summer tomatoes are at their best—big ones, the heirloom types—this recipe for spiced grilled steak goes into frequent dinner rotation.
The recipe came to us  years ago from Beaulieu Vineyard, when we belonged to their wine club and quarterly wine shipments came with recipes for complementary dishes. (Michael Chiarello was BV's culinary director for a time.) I stashed these recipe cards in my cooking binder, and many of those recipes are among our favorites.
This recipe for spiced grilled steak and tomatoes starts with a rub that's full of enormous flavor, and it totally makes this dish. Use fresh coriander and fennel seed. The spice blend will keep in the refrigerator and will last all summer. My handwritten notes on the recipe read: "This recipe is EXCELLENT! No better use for perfect summer tomatoes and a great cut of beef. Serve with warm bread."
spiced steak and tomatoes
serves 4
4 steaks (New York strip, rib-eye or filets)
2 red vine-ripe tomatoes
2 yellow vine-ripe tomatoes
2 Tbsp. whole coriander
1 1/2 tsp. white peppercorns (black peppercorns are fine)
1/2 cup fennel seed
1/2 cup kosher salt (be sure to use coarse salt)
high-quality extra-virgin olive oil
balsamic vinegar
Make the spice mix:  Toast the coriander seeds, fennel seeds and peppercorns in a small skillet until fragrant, about 5 minutes. Transfer to a coffee grinder (we use our coffee grinder exclusively for spices) and grind until spices are cracked but not powdery-fine. Transfer to a bowl and mix in the kosher salt.
Rub the steaks with olive oil and coat generously with the spice mix. Grill to your liking. Allow steaks to rest on a cutting board for a few minutes while you prep the tomatoes.
Slice tomatoes 1/2 inch thick and arrange on plates; season with salt and pepper and drizzle with olive oil and balsamic vinegar. Slice each steak and arrange on top of tomato slices; drizzle with a bit more vinegar and olive oil.
(photo note: I haven't mastered the lighting and styling to take an attractive shot of, you know, meat … so I'll show you the spice rub and the tomatoes)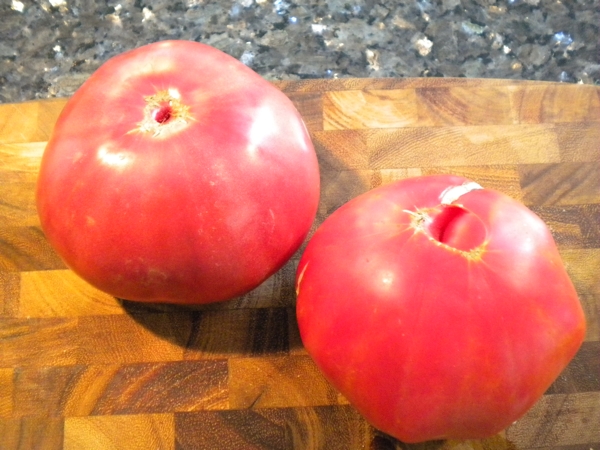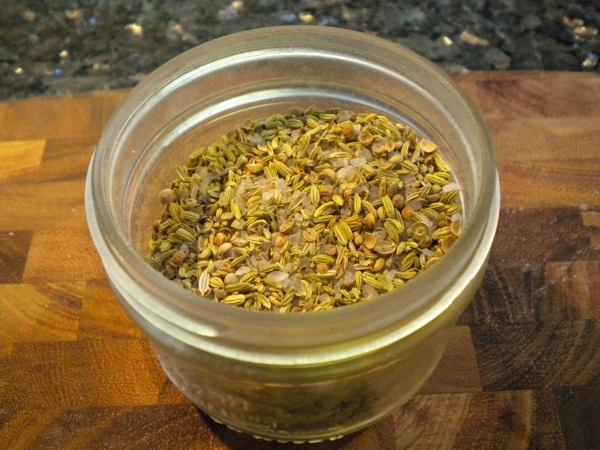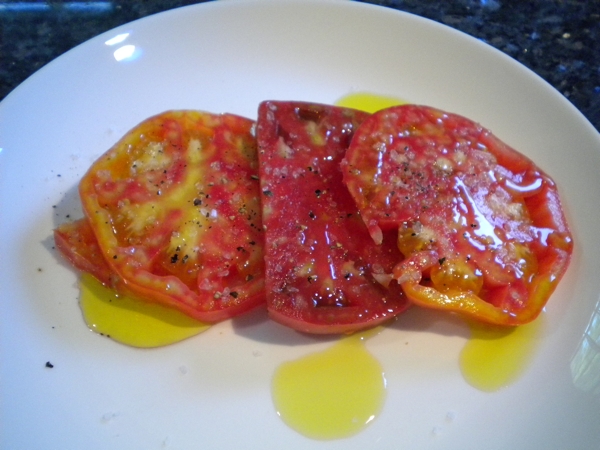 related recipes
a year ago on writes4food
brie layered with sundried tomatoes