Last summer, I shared a house favorite recipe: Corn and Parmesan gratin, also known as "West Chop Corn" from Susan Branch's "Summer" cookbook of recipes inspired by Martha's Vineyard. Now that sweet corn is in season, finally, after a late and soggy spring, this fabulous summer corn recipe has been on my mind. Over the weekend, Rob and I prepared a meal entirely of vegetables, and because it was so hot we kept the cooking out on the grill. I came up with an adaptation of the corn gratin recipe that's perfect for grilling.
grilled corn with Parmesan breadcrumbs
serves 2
3 ears fresh corn, kernels cut from cobs (easy instructions for cutting corn off the cob)
salt and pepper
2 to 3 Tbsp. heavy cream
2 Tbsp. freshly grated Parmesan
2 Tbsp. panko (Japanese breadcrumbs) or regular breadcrumbs
pinch of paprika or pimenton
Heat the grill to medium. Take about a 30-inch length of aluminum foil; fold in half so you have a double-thickness. Lightly spray foil with cooking spray. Place corn in the center of the foil; season with salt and pepper and toss with your hands to combine. Make a small well in the center of the pile of corn; pour cream into the well. Draw the long sides of the sheet of foil together and fold over several times to seal. Fold each short side together and crimp to seal well (make sure the top and sides are sealed completely). Place foil packet on grill and cook for 12 minutes. Meanwhile, preheat broiler; combine Parmesan, breadcrumbs and paprika or pimenton. Remove foil packet from grill and place on a baking sheet. Carefully unfold the packet (watch for steam!) to open. Sprinkle Parmesan-breadcrumb mixture evenly over the corn; place baking sheet under the broiler and broil 3 to 5 minutes, until topping is nicely browned (watch to prevent burning).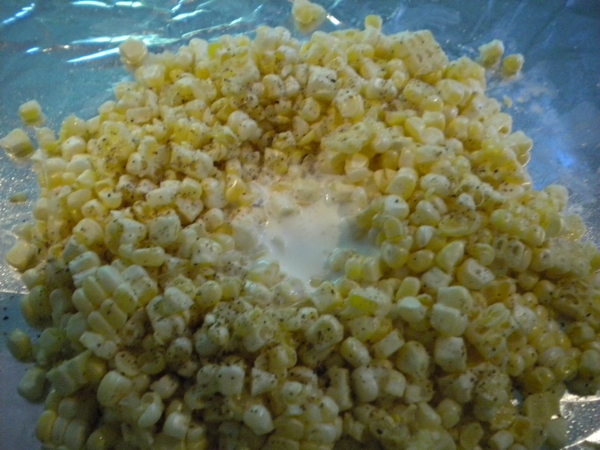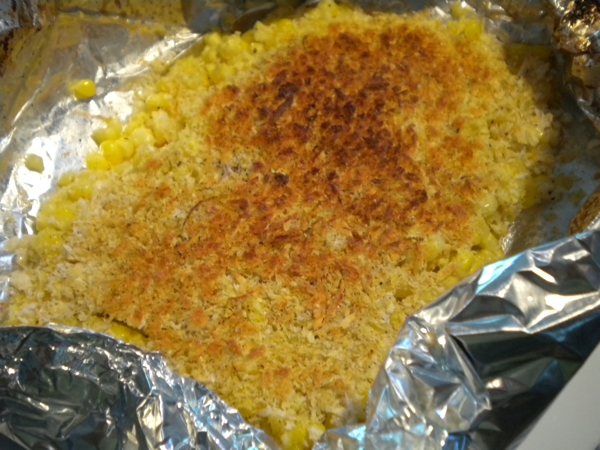 r
related recipes
Grilled summer vegetables
Corn and Parmesan gratin