I recently finished up a writing assignment for SparkPeople.com about the stir-fry cooking technique. In a nutshell: stir-frying is similar to sautéeing, but it typically involves higher heat and less oil. Heat a round-bottomed wok or a sauté pan with rounded corners over a fairly high flame, then add a tablespoon or less of oil. Add aromatics first (like fresh ginger), then cubed meat, then diced or shredded veggies. Cook over high heat, stirring quickly and frequently. The high burner temp helps brown and caramelize the ingredients, and it makes fast work of getting dinner on the table (prep is the time-consuming part of stir-frying).
We typically associate stir-fry cookery with Asian foods, but it's a really versatile method. This recipe for sautéed summer vegetables would benefit from the high-heat/low-oil/constant-stirring of stir-frying. So would this, one of my all-time simple dishes: pasta with sautéed zucchini, pine nuts and Parmesan. And for the article, I came up with this easy recipe for an all-veggie stir-fry that's not Asian at all.
easy chickpea, tomato and spinach stir-fry
serves 4 as a side dish
1 can chickpeas (garbanzo beans), rinsed, drained and left to dry in a colander for 30 minutes
1 pint cherry tomatoes
1 bag fresh baby spinach, washed
1 or 2 cloves garlic, minced
1 Tbsp. canola or peanut oil
coarse salt and freshly ground pepper
Heat a wok or heavy sauté pan (with curved sides) over medium-high heat for 2 minutes until it's hot. Add 1 Tbsp. canola or peanut oil; let the oil warm until it shimmers in the pan. Add chickpeas (careful: any residual moisture from rinsing them will cause splatter, so it's wise to let them dry well before cooking) and stir quickly to coat with oil. Cook over medium-high to high heat (as hot as you're comfortable going), stirring frequently, until chickpeas start to brown a bit, 5 to 7 minutes. When they're nicely browned, add the garlic and cherry tomatoes and cook, stirring, until they also acquire some nice brown spots. Turn off the heat, and add the spinach; stir until barely wilted and season well with salt and pepper. Serve warm or at room temperature.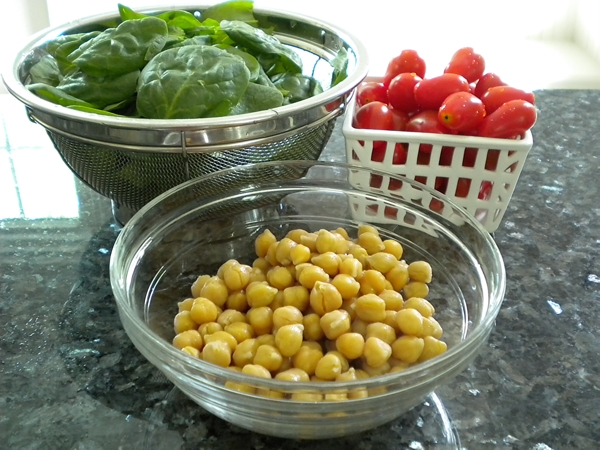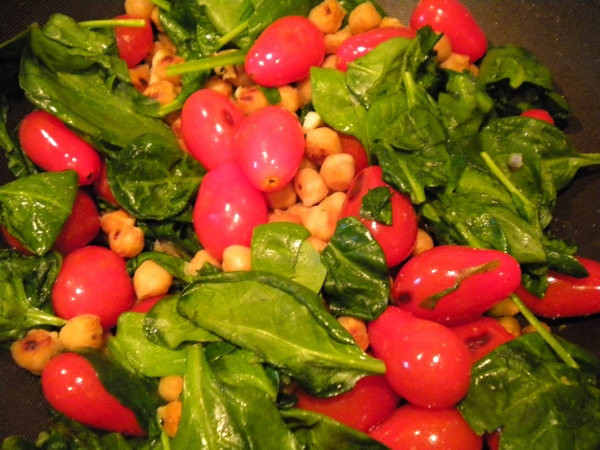 related recipes
Summer's best sautéed vegetables
Fregola sarda (pasta) with zucchini and pine nuts