Sometimes, the only thing a bowlful of fresh lettuce needs is a drizzle of olive oil and a squeeze of lemon juice. Sometimes, you want a bit more of a flavor kick. So I've compiled a roundup of my favorite vinaigrette dressing recipes, going from minimal ingredients to slightly more involved. None of these, however, requires any time at all. You can dump the ingredients into a lidded glass jar, shake and be ready to toss with lettuce and your favorite salad veggies in just about 5 minutes.
Here's the simplest formula you need to know: Traditional French vinaigrettes use a ratio of 1 part acid to 3 or 4 parts oil. Which translates to 1 Tbsp. red-wine vinegar and 1/4 cup of olive oil. The sharper, stronger the acid, the greater the ratio should be. Since red-wine vinegar is sharp and pungent, then more oil helps balance the flavors. But if you're using a lighter acid, like champagne vinegar, rice vinegar or lemon juice, you can use a ratio that's closer to 1 part acid to 1 part oil. As a cheat, remember this:
Sharp vinegar = 1 part acid : 3 or 4 parts oil
Light vinegar = 1 part acid : 1 or 2 parts oil
The simplest vinaigrettes below don't require mixing; you can simply splash the oil and the vinegar right in the salad bowl, add the greens and toss gently. The other vinaigrette recipes need to be shaken or whisked to combine the ingredients well. You're going for an emulsion, or an even blend of oil and acid. Additions like mustard or mayonnaise are called emulsifiers—they help the fat and liquid molecules get all snuggled up tight together and make a smooth mixture.
These vinaigrette recipes welcome the addition of a tablespoon or so of very finely chopped herbs of your choice (tarragon is nice, chives are good) as well as garlic. With the garlic, you have two choices:
1) smash a medium peeled garlic clove lightly with a chef's knife (just to break it open; don't disintegrate it) and drop it into the jar with the other ingredients; shake. You can leave the clove in the jar or remove it if the flavor gets too strong after a couple of days.
2) mash a small peeled garlic clove into a smooth paste with a chef's knife and stir that into the rest of the ingredients; shake.
For the recipes below, you can shake the mixture in a jar or a swirl mixer to combine, or whisk them together in a glass bowl. Regardless, you'll want to use a non-reactive container (glass is good). All of these can be stored in the fridge for up to 2 weeks.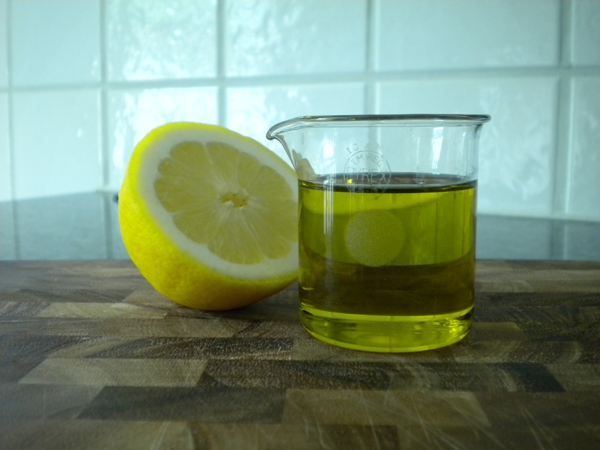 simplest vinaigrettes
lemon juice & olive oil: drizzle arugula or lettuce with 2 Tbsp. really good extra-virgin olive oil and the juice of 1/2 lemon; season with salt and fresh-cracked pepper
balsamic vinegar & olive oil: drizzle romaine or butter lettuce with 1 Tbsp. balsamic vinegar and 2 Tbsp. really good extra-virgin olive oil
basic French vinaigrette
2 Tbsp. red-wine vinegar
1/2 tsp. Dijon mustard
1/3 cup olive oil
salt & pepper
our favorite vinaigrette (this is very mustardy and very good)
1/3 cup white-wine or champagne vinegar
3 Tbsp. Dijon mustard
1 Tbsp. honey
1/2 cup olive oil
salt & pepper
lovely citrus vinaigrette
1/4 tsp. Dijon mustard
2 tsp. honey
2 Tbsp. white wine vinegar
1 Tbsp. orange juice
3 Tbsp. olive oil
salt & pepper
More salad dressing recipes:
The best blue-cheese dressing recipe ever (promise).