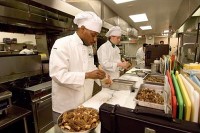 How is it that Rob and I have lived in Cincinnati for years and only just discovered 1 Night 12 Kitchens? This event raises scholarship funds for students at the Midwest Culinary Institute at Cincinnati State, and it's a fantastic culinary experience. It's one of those charitable events that's so much fun you almost feel guilty taking the tax deduction. Almost.
A dozen of the area's top chefs participated, including Anne Kearney of Rue Dumaine (formerly of Peristyle in New Orleans), Jean-Robert de Cavel of his eponymous restaurant, Sean Daly of Southern-infused Hugo, and Stephan Skirtz and Andrew Johnston of our favorite Saturday-morning bakery, Skirtz & Johnson. The chefs worked with groups of students to prepare "dinner by the bite"—masterful, flavorful creations portioned perfectly for tasting.
We were inspired by a number of these preparations, and I hope to play around with re-creating them at home in the coming weeks:
I've already marked early May 2012 on my calendar so we won't ever miss this event again, ever.