It's a wonder that pizza—a single-crust version without any pepperoni, sausage or Mozzarella cheese, one topped with healthy veggies, no less—could taste so rich.
I spotted this recipe for Onion Pizza with Ricotta and Chard in the Recipes for Health section of NYTimes.com. Pizza? A quote-recipe-for-health-unquote? Happily, yes.
The trick in this recipe—and it's one that I'll use for any other situation that calls for topping a pizza with ricotta cheese—is mixing an egg yolk and some grated Parmesan into the ricotta and spreading that over the pizza.
pizza with caramelized onion and chard
(adapted from NYTimes.com)
1 large or 2 medium onions, halved lengthwise and then thinly sliced
2 Tbsp. olive oil
2 garlic cloves, minces
1 tsp. fresh thyme, chopped
1/2 pound Swiss chard, washed, stemmed and roughly chopped
1/2 cup (packed) freshly grated Parmesan
1 egg yolk
1/2 recipe homemade pizza dough (or store-bought)
If you have one (and I recommend this), place a pizza stone on the middle rack of your oven and preheat to 450 degrees for half an hour. Meanwhile, heat olive oil in a heavy skillet over medium-high heat and add onion. Cook, stirring frequently, until the onion begins to brown on the edges, about 7 minutes. Add garlic and thyme, season well with salt and pepper. Cover skillet, turn heat to low and continue cooking 15 or so minutes, until the onions are very soft and golden brown. Remove from skillet. Add a splash of olive oil to the skillet and add the chard; cook until just wilted but still bright green. Remove to a bowl to cool.
In a medium bowl, whisk together ricotta, Parmesan, egg yolk, a pinch of salt and a generous grind of pepper. Stir in the cooled chard.
Roll out the pizza dough as thin as you like. Sprinkle a bit of cornmeal on the pizza stone and, using the rolling pin, transfer the dough to the stone. (Alternately, press the dough into a rimmed baking sheet that you've oiled lightly.) Bake until the crust begins to turn golden, about 8 minutes. Remove crust to a baking sheet. Spread the ricotta mixture generously over the crust; top with caramelized onion; season with fresh cracked pepper. Slide the crust off the baking sheet and back onto the stone; bake another 10 minutes or so, until the ricotta is bubbly and the crust a deep golden brown. Serves 4.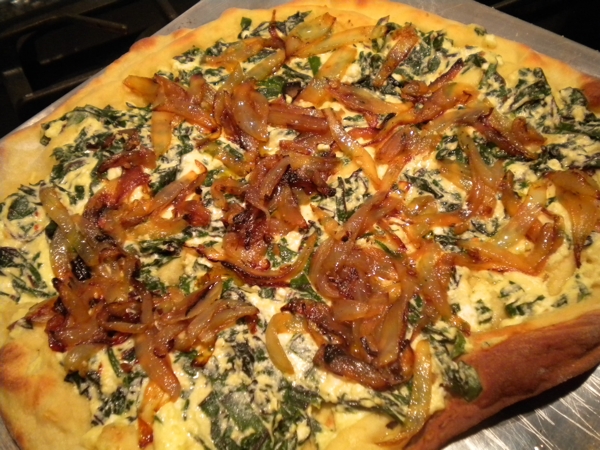 Related pizza recipes:
Pizza with Prosciutto and Arugula
Pizza with Swiss Chard, Prosciutto and Egg
Pizza with Pretty Much Everything
Homemade Pizza Dough Recipe