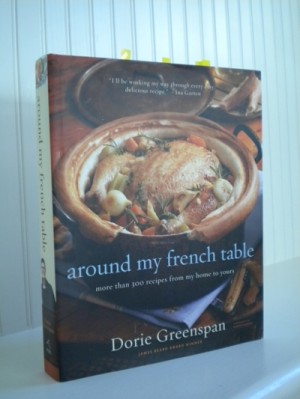 Right around Thanksgiving, I heard an interview on NPR's All Things Considered with Dorie Greenspan, a longtime food writer and author. The subject was a dish called Pumpkin Stuffed with Everything Good, from Greenspan's new cookbook, Around My French Table. The recipe sounded marvelous, and I immediately put the book, sight unseen, on my Christmas wish list.
Santa, aka Mom, came through. Since I got the book a week ago, I've been savoring it like a good novel, page by page. The book is glorious, full of beautiful photographs and stocked with must-try recipes. Some are complex and seem to require a full day of preparation; those are the ones I'll get to when time permits. Most, though, aren't terribly involved. And none of them seem particularly difficult for comfortable cooks. Greenspan presents recipes for the kinds of foods Rob and I like to make and eat—excellent ingredients well prepared. Margin notes called "Bonnes Idées" throughout offer little tips and amendments to the recipes. Even the simplest recipe, like a French preparation for all-American corn on the cob, are enhanced with stories of Greenspan's life in Paris; it's as much travelogue as cookbook.
I've flagged pages with Post-it markers, and the book is starting to resemble a porcupine with all the yellow tabs sticking out. Dinner tonight will be a very Parisian version of the hamburger, with fresh herbs, sundried tomatoes and capers in the meat and shaved Parmesan and homemade onion marmalade on top. I've also bookmarked the following:
Avocado halves sprinkled with lemon juice, fleur de sel and drizzled with pistachio oil
A variation on gougeres, the little savory cheese puffs that I love to make
A salad of bacon, asparagus and very soft-cooked eggs
Fresh orange pork tenderloin
And, when I can, I'm going to join the online cooking community French Fridays with Dorie, which guides home cooks through the book, one recipe a week. I needed another cookbook like I need a hole in the head … but I REALLY did need this one.