When I was newly married 20 (gulp!) years ago, one of my first acquisitions for our tiny apartment kitchen was a subscription to Bon Appétit magazine. Bon Appétit taught me as much about cooking—and especially about planning complete menus—in my formative culinary years as my grandmothers and mother did. I subscribed for years and years until one day I stopped. (It's exactly this consumer behavior that drives those of us in the media business quite batty. But I digress.)
Over the course of my subscription, I developed an index to our favorite recipes. By hand. In WordPerfect. With issue date and page numbers, plus margin notes about the recipes that we'd tried and those that we wanted to, this index became my passport to great recipes. It remains so to this day: a key that deciphers the big pile of back issues that I've saved and stored on basement bookshelves.
And so it was that on the day after Christmas, Rob and I dug out September 1995, the "American Restaurant" issue. Page 93 holds one of our all-time favorite pasta recipes, Penne with Sausage, Peas and Mascarpone (noted on my index with the following: "Oh God, oh God"). In all the times we've returned to that very page, now dog-eared and wine-splattered, we had, sadly, overlooked another splendid recipe on the same page. Here it is:
fusilli with shrimp and panéed chicken
1 egg
1 cup fresh breadcrumbs
1/3 cup plus 2 Tbsp. chopped fresh parsley
2 small boneless chicken breasts
4 Tbsp. olive oil
1/2 pound uncooked large shrimp, peeled & deveined
2/3 cup dry white wine
1 cup whipping cream
cayenne pepper (1/8 to 1/4 tsp. to taste)
1/2 cup grated Parmesan
1/2 pound fusilli
In a shallow bowl, beat the egg to blend; in another shallow bowl, mix together breadcrumbs, 1/3 cup parsley and a generous pinch of both salt and pepper. Dip chicken into egg, then breadcrumbs, coating completely. Heat 3 Tbsp. olive oil in a large skillet over medium-high heat; add chicken and sauté until cooked through, about 4 minutes per side. Transfer chicken to a plate.
Discard oil in skillet, return to heat and add 1 Tbsp. olive oil. Add shrimp and sauté over medium-high heat until cooked through, about 3 minutes. Remove shrimp to plate with chicken. Add wine to skillet; boil until reduced by half. Add cream and boil until sauce thickens slightly, about 3 minutes. Stir in cayenne and Parmesan.
Meanwhile, cook fusilli in a pot of salted water until al dente.
Cut chicken into bite-size pieces. Return chicken and shrimp (plus any collected juices) to sauce in skillet. Add pasta and stir to coat. Season with salt and pepper. Spoon onto plates and sprinkle with parsley to serve.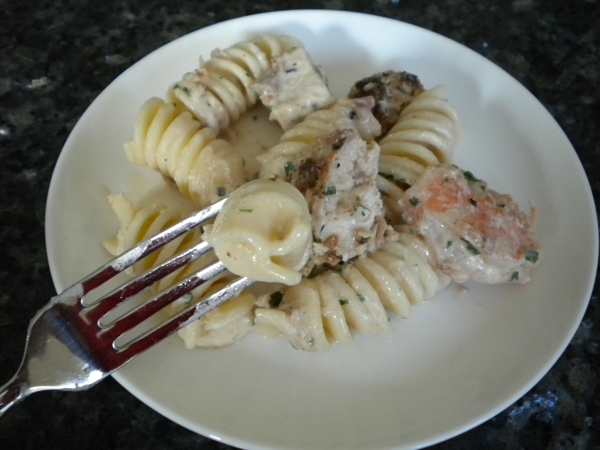 Note: Page 93 indicates that this recipe comes from Gabrielle in New Orleans, which was destroyed by Katrina and has not reopened. The article was written by Dorie Greenspan, the author of "Around My French Table," one of my two very favorite Christmas gifts this year. About which more is to come.