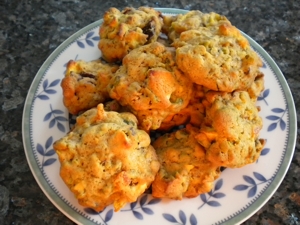 I don't love fruitcake, but I've always loved fruitcake cookies. I recall making them as a kid, using a recipe from a special-edition holiday cooking magazine. I've no idea what happened to that Christmas fruitcake cookie recipe, but I found another version last year, adapted it to my own taste, and had fantastic results. These are as easy to make as chocolate-chip cookies (in fact, the batter is similar), and they're jam-packed with dried fruit and nuts. In adapting this recipe from MarthaStewart.com (see the original version here), I've indicated general quantities for the fruit and the nuts, the idea being that you can use whatever combination of both that suits you. The original recipe does not include candied cherries, but I've added them because there's something about seeing glints of red and green in the cookie that does, in fact, say "fruitcake!"
Christmas fruitcake cookies
2 1/4 cups all-purpose flour
1 tsp. baking soda
1 tsp. salt
1 cup (2 sticks) unsalted butter, barely softened
1 cup packed brown sugar (use light or dark, or both)
2 eggs
1 tsp. vanilla extract
3 to 4 cups chopped dried fruit of your choice
1/2 cup chopped candied cherries (red, green or both)
2 cups chopped nuts of your choice
Preheat oven to 350 degrees. In a medium bowl, toss dried fruit with 1/4 cup of flour to coat (this keeps the fruit from sticking in a clump when you blend it into the dough). In a medium bowl, combine 2 cups flour, salt and baking soda. In a mixing bowl (the Kitchen-Aid makes quick work of this), place butter and blend until creamy, about 2 minutes. Add brown sugar and blend until light and fluffy, 3 minutes. Add eggs, one at a time, and blend after each addition; add vanilla and mix. Carefully add dry ingredients and mix on low speed to blend thoroughly. Carefully stir in fruit and nuts.
Drop dough by generous tablespoons onto 2 ungreased cookie sheets. Bake for 12 to 15 minutes until nicely golden. Cool slightly, then remove to a wire rack to fully cool.
Note: This year, I used 1 1/2 cups each of chopped dried apricots and dried apples, plus 1/2 cup dried cherries and 1/2 cup red and green candied cherries. Last year, I used about 4 cups of a gorgeous dried fruit blend from Meduri, given by my friend Sam Harrison. I used all pistachios, but chopped pecans or walnuts (I'd toast them lightly) would be good. The original recipe calls for dried coconut and macadamias, which I don't like. You could up the quantity of fruit and nuts in this recipe—just eyeball it—but don't skimp. You want a fruit-and-nut-studded cookie.